The recent disruption to the way we live and work has given us a unique opportunity to reflect on what's important and 'build back better'. Making now a good time for organisations to push forward with their net-zero goals and invest in technologies that will lead to a greener, more connected, more resilient future.
A greener connected future is our latest report, in partnership with IC&CO and Cenex. It looks at how connectivity and innovative 5G solutions can reduce carbon emissions across four of the economy's largest sectors - Transport, Utilities & home energy, Manufacturing, and Healthcare. Removing up to 269 megatonnes of CO2 by 2035 – almost equivalent to England's total emissions for 2018, which came in at 280 megatonnes1.
Download the report and find out how 5G can help bring your industry closer to net-zero, today. And get expert perspectives on using connectivity to work more sustainably, from the likes of Eman Martin-Vignerte, Board Director, Bosch UK & Board of 5G UK.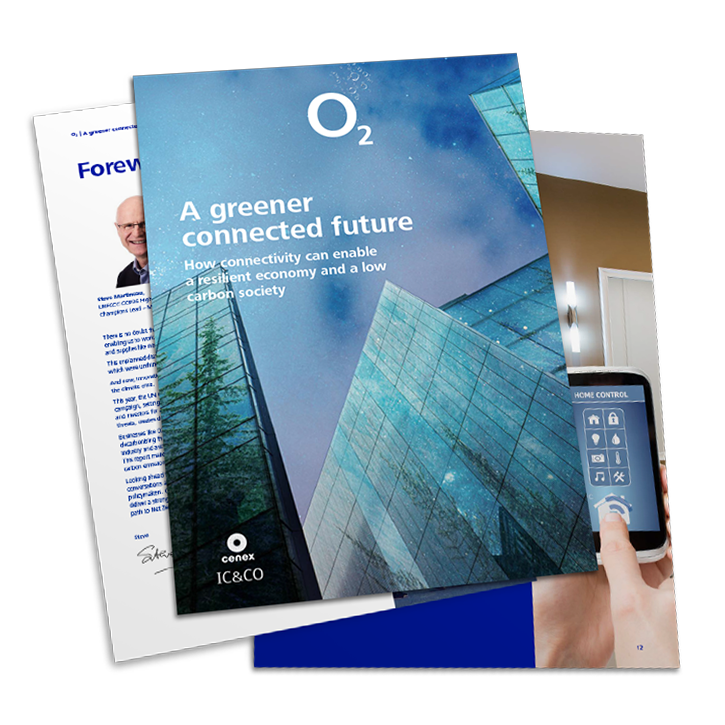 To download the report, just fill in your details below.
Privacy policy
After submitting this form, your details will be added to our business marketing database and you may be contacted by email or phone about O2 services. You can opt out of receiving communications at any time by visiting our
Preference Centre
. Our
Privacy Policy
.